Podcast: Download (Duration: 5:48 — 3.9MB)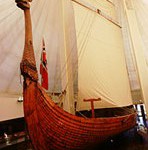 How does a junior high guidance counselor come to be the builder and owner of a full-size Viking ship? And how do the counselor's children end up sailing to Norway to fulfill his dying wish?
That's the story of Robert Asp of Moorhead, Minnesota–and it's the topic of the latest episode of The Scenic Route, our long-form podcast that takes a more leisurely look at the American Countryside.